his memorial website was created in the memory of our loved one, James "Kyle" Berry who was born in Arkansas on May 19, 1983 and passed away on May 02, 2006 at the age of 22. We will remember him forever.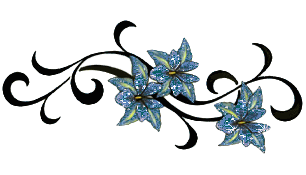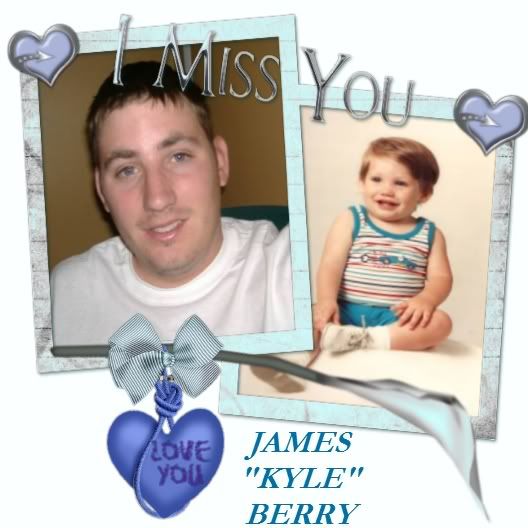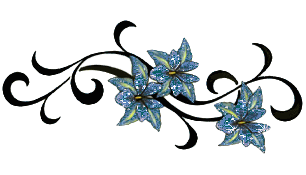 Kyle was Jim's and my only child, and he is missed by so many...He came into this world fearless and left this world without fear. I never knew how much of an impact he had on others until his death, I knew he had many friends, but never knew he was everyone's best friend. The newness of him being gone is an everyday struggle for his father, friends, family and I. When Kyle was born, he was a whopping 9 lbs. 9 oz, with a full head of hair. Through his toddler years he never stopped moving and curious about anybody and everything that was around him. He was a good baby, slept sometimes up to 12 hours during the night, and when he napped he slept for almost two hours. But when he was awake, you knew it, and you couldn't look away for a second or he would be in the dishwasher or climbing the furniture. We later learned he had ADHD when he began school, and it caused alot of worries trying to keep him on task and concentrate to get him through. We realized college wasn't in his plans, but we also knew he was gifted in other things. He had a natural golf swing, and played in junior tournaments, and even had 2 hole in ones. He was fascinated with cars, 4 wheelers and motorcycles, and learned how to work on them with his friends. Last June his girlfriend of three years and him decided to move to Orlando so Kyle could attend Motorcycle Mechanic Institute. This had been a dream for Kyle for quite sometime, he loved motorcycles and loved to work on them. With the strain of being away from all his friends in Arkansas, him and his girlfriend went in different directions, Kyle decided to take a break from school and go back home to see his friends and get his mind off it all. He seemed happier around his friends, and they were all glad to be around him.
On April 19th, a group of friends, decided to run to Memphis to the Tuesday nite Bike night. There wasn't much going on that evening, so everyone, about 30 bikes started to leave the area, Kyle wanted to make one more run before he left, so as I was told, he took off down one of the lanes, doing his ever so famous wheelie and right after he took off Lance, one of his friends started down the other lane doing his ever so famous wheelie. When Kyle made it to the end of the track..they said he looked back when he was making a small turn around and didn't see Lance's headlights because Lance was still in a wheelie position and Lance's bike hit Kyle's throwing both of them off the bikes. Precious Lance was killed instantly that night, Kyle was taken to the Elvis Presley trauma center in Memphis, where he remained until he passed away on the 2nd of May. He lived large, he played hard and was loved by so many, his visitation and funeral were filled with so many kids, friends and loved ones. We had t-shirts made up for all the kids in Kyle's favorite color "Orange", they asked if they could ride their bikes with the shirts on to the grave site..and what a site it was seeing all of them in front of the hearst, I know Kyle would of thought it fitting. They always wore helmets,
Kyle especially, he didn't have any head trauma, but his pelvis was busted up and he had massive internal bleeding. I will miss my baby so very much, every inch of his 6'3" frame, his massive hands and feet, the way he would always tease me and try to get me irritated when I was trying to do something, him texting me, calling me late at night because he wasn't paying attention to the time. I LOVE YOU SWEET KYLE BOY!!!
You are my angel...and missing you is the hardest thing I have ever done in my entire
life...until I see you again...XOXOXOX


To all of Kyle's friends
I want all of you to know how much I appreciate you going to Kyle's "My Space"
and continuing writing and thinking of Kyle
I would love for all of you who log on to this memorial site, to light a candle,
share a story or even send a picture that you would want to put on his page.
I love all of you and would love to hear from you any time.
Kyle's Momma


IF TEARS COULD BUILD A STAIRWAY
If tears could build a stairway
and memories a lane
I would walk right up to Heaven
and bring you back again

No farewell words were spoken
No time to say "Goodbye"
You were gone before I knew it
and only God knows why

My heart still aches with sadness
and secret tears still flow
What it meant to love you-
No one can ever know

But now I know you want me
to mourn for you no more:
To remember all the happy times
life still has much in store

Since you'll never be forgotten
I pledge to you today-
A hollowed place within my heart
is where you'll always stay

THE DRAGONFLY
Once in a little pond, in the muddy water under the lily pads, there lived a little water beetle in a community of water beetles. They lived a simple and comfortable life in the pond with few disturbances and interruptions.
Once in a while, sadness would come in the community when one of their fellow beetles would climb the stem of a lily pad and would never be seen again. They knew when this happened, their friend was gone forever.
Then, one day, a little water beetle felt an irrisistable urge to climb up that stem. However, he was determined that he would not leave forever. He would come back and tell his friends what he had found at the top.
When he reached the top and climbed out of the water onto the surface of the lily pad, he was so tired, and the sun felt so warm, that he decided he must take a nap. As he slept, his body changed and when he woke up, he had turned into a beautiful blue-tailed dragonfly with broad wings and a slender body designed for flying,
So, fly he did! And as he soared he saw the beauty of a whole new world and a far superior way of life to what he had never known existed.
Then he remembered his beetle friends and how they were thinking by now he was gone forever. He wanted to go back to tell them, and explain to them that he was now more alive than he had ever been before. His life had been fulfilled rather than ended.
But, his new body would not go down into the water. He could not get back to tell his friends the good news. Then he understood that their time would come, when they, too, would know what he now knew. So, he raised his wings and flew off into his joyous new life!
IF TOMORROW STARTS WITHOUT ME, AND I'M NOT THERE TO SEE,
IF THE SUN SHOULD RISE AND FIND YOUR EYES ALL FILLED WITH TEARS FOR ME;
I WISH SO MUCH YOU WOULDN'T CRY THE WAY YOU DID TODAY,
WHILE THINKING OF THE MANY THINGS, WE DIDN'T GET TO SAY.
I KNOW HOW MUCH YOU LOVE ME, AS MUCH AS I LOVE YOU,
AND EACH TIME THAT YOU THINK OF ME,
I KNOW YOU'LL MISS ME TOO;
BUT WHEN TOMORROW STARTS WITHOUT ME,
PLEASE TRY TO UNDERSTAND, THAT AN ANGEL CAME AND CALLED MY NAME, AND TOOK ME BY THE HAND,
AND SAID MY PLACE WAS READY,
IN HEAVEN FAR ABOVE, AND THAT I'D HAVE TO LEAVE BEHIND ALL THOSE I DEARLY LOVE.
REMEMBER TO TELL THE ONES YOU LOVE THAT YOU CARE!!!
A PAIR OF SHOES~Author unknown
I am wearing a pair of shoes.
They are ugly shoes.
I hate my shoes.
Each day I wear them, and each day I wish I had another pair.
Somedays my shoes hurt so bad that I do not think I can take another step.
Yet, I continue to wear them.
I get funny looks wearing these shoes.
They are looks of sympathy.
I can tell in others eyes that they are glad they are my shoes and not theirs.
They never talk about my shoes.
To learn how awful my shoes are might make them uncomfortable.
To truly understand these shoes you must walk in them.
But, once you put them on, you can never take them off.
I now realize that I am not the only one who wears these shoes. There are many pairs in this world.
Some women/men are like me and ache daily as they try and walk in them.
Some have learned how to walk in them so they don't hurt quite as much.
Some have worn the shoes so long that days will go by before they think about how much they hurt.
No woman/man deserves to wear these shoes.
Yet because of the shoes I am a stronger woman/man.
These shoes have given me the strength to face anything.
They have made me who I am.
I will forever walk in the shoes of a woman/man who has lost a child.
Death leaves a heartache no one can heal,
love leaves a memory no one can steal!!!
Love you my precious son!!